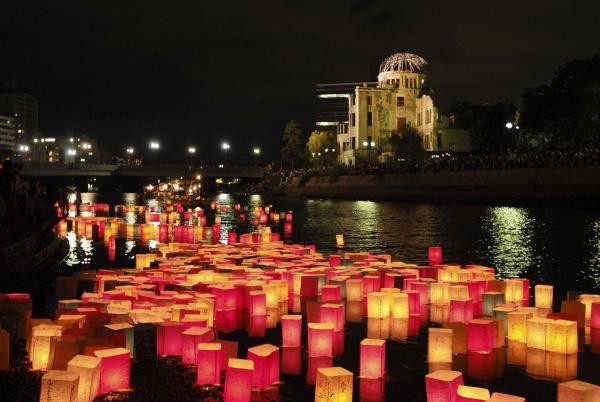 Toro nagashi with a memorial service and a feeling for peace
It is said that the beginning of "Toro nagashi" was when the bereaved families and citizens who lost their relatives and acquaintances in the atomic bomb flushed handmade lanterns into the river for the sake of remedy and memorial service. Recently, the sight of people from Japan and abroad writing their thoughts on peace has become more prominent. Toro nagashi, which has a long history, has become meaningful for both memorial services and peace messages. Currently, about 10,000 pieces are washed away from several places in the six rivers. Why don't you play "Toro" with your message from Hiroshima wishing for peace?

INFORMATION
business hours

16: 00 ~ 22: 00

Holidays

It is held on August 6th every year.

price

Visit / free

address

〒730-0811Motoyasu River Hydrophile Terrace: 1, Nakajima-cho, Naka-ku, Hiroshima-shi, * Near the Bell of Peace (1-10-2 Otemachi, Naka-ku, Hiroshima-shi), on the right bank of the Motoyasu River.
Phone Number

082-245-1448
Parking Lot

none. Please use the nearby parking lot (charged).